Written by David Hakamaki, owner of Cutting Edge Photography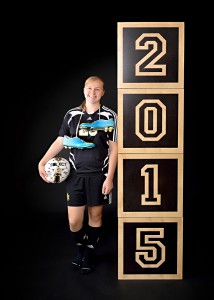 Senior Design Cubes a HIT!
Making yourself stand out in the crowded Senior Portrait market is difficult. Wanting to put distance between my studio and my competitors, Simply Color Lab and I worked together on a product that is expected to gain maximum "WOW" factor from both Seniors and parents. After numerous discussions and designs, Simply Color Lab has released their Senior Design Cubes by David Hakamaki. I tested out a set in my studio and found that these exceeded my expectations for construction and performance in my Senior business. These are also a monster HIT with my clients. They make me look unique and the students are buzzing about wanting their portraits with these Senior Design Cubes.
Unboxing
The Senior Design Cubes came shipped in sturdy cardboard overpacking. The cubes were nestled inside with styrofoam corner protectors and foam wrap. This packing ensured that small bumps and dents would have no impact to the underlying cube. Each cube comes individually packaged, although you can purchase a set of three sizes that come nestled inside each other in one box. Very convenient.
Design
Senior Design Cubes are available in three convenient sizes — 20" 16" or 14". There is also a three cube set (16", 12" and 8") that can be nested or stacked in a pyramid format. I ordered the Senior Design Cube in 20" size, which is the perfect size for Seniors (and even small children). The desired look is custom designed by the photographer. There are 5 sides to customize, with three font options for numbers and/or letters. Each side is finished wood, with the inset portion color shaded to your selection of colors. Thus, each of the sides can be all the same or custom colored to your top 5 area schools' colors. The surrounding number can also be colored to match the inset or just left finished wood. The color options I selected were black, black and yellow, royal blue and gold, navy blue and maroon. We did not color the number or edge band on the black, navy or maroon sides, but left them as the finished wood tone. I received 2,0,1 and 5 to allow me posing of either two blocks (i.e. 15) or four blocks (i.e. 2015).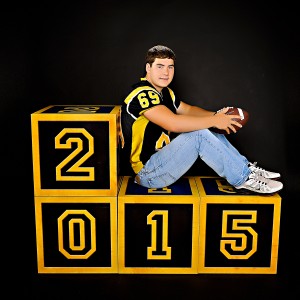 Construction
Most products I purchase last only a short period of time. They look good and usually come at a very attractive price point, but as the old adage goes…"You get what you pay for." Alas, those bargain props never seem to last and become another entry into the storage room hall of shame or garbage.
The Senior Design Cubes by Simply Color Lab are sturdy and well constructed. The paint finish gives a 3-D effect, when, in fact, the entire surface is smooth. They are constructed of 3/4" plywood, with the inside corners reinforced. The bottom remains open, so nesting of smaller cubes is possible. Fear not, fellow photographers, you can easily sit that 250 lb. linebacker on these cubes and not worry about him crushing these. (Side note, larger subjects have destroyed more props in my studio than Godzilla has buildings). The bottoms have little rubber buttons that keep the floor of your studio or the tops of the Senior Design Cubes from getting scratched. This is a nice addition to protecting your investment when stacking them.
Usage
How am I using Senior Design Cubes? In the studio, I like to configure them for different looks. You can also mix up the colors or keep them all similar to mimic a school's colors. The options are extensive. Stacked vertically, they create a unique column, while an "L-shape" allows the subject to sit on them. I have had Seniors sitting on them, laying on top of them and leaning against them. Let your imagination wander for setup
and posing options. Using only two Senior Posing Cubes allows me to shorten the year to two digits, if I want to save floor space or focus more on my Senior client.
I like multipurpose items in my studio. I have a home-based studio, so storage space is at a premium. They are easy to carry in and out of my studio, though the large size cubes can get a bit heavy for smaller stature photographers. In storage, you can stack these or use them as props in your gallery when not in use.
The cubes also resemble children stacking blocks, so they also work perfectly in children portraiture. If working with children, the numbers can be used to show off the child's age. One child loved banging on them, while the mother exclaimed how excited she was to have her child's age shown in the portrait. There are also options to get letters on the cubes, which opens endless possibilities with photographers who specialize in children portraiture. Because of their sturdy construction, I never have to worry about children knocking these cubes over and hurting themselves.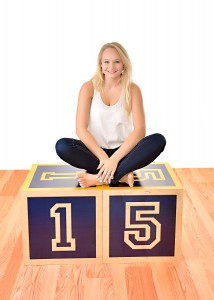 Final Thoughts
Simply Color Lab has hit the proverbial "home run" with these Senior Design Cubes by David Hakamaki. They have become a staple prop in my studio and everyone gets excited when I pull these out. Needless to say, part of making yourself the place to go for senior portraits is having unique items that are only available at your studio. The Senior Posing Cubes do just that. Check out the options at Simply Color Lab to create your mark on Senior Portraiture.
David Hakamaki is the owner of Cutting Edge Photography , located in Iron Mountain, Michigan. Operating a full-time home-based studio and living in a small, rural community, David has gained national recognition for his work and is known as the "Home Based Photography Guru". David is a Featured Speaker at local, state & national conferences, provides training webinars and beta testing on industry products, serves as a Photography Mentor and has been featured at Photographers Ignite and WPPI Platform and Master Classes. He serves on Simply Color Lab's "Senior Dream Team" and provides his expertise of the HS Senior Portrait industry to novice and experienced photographers across the country. David is also a proud member of the Professional Photographers Association (PPA) and the Wedding and Portrait Professionals International (WPPI).