Description
Simply Color Lab provides you with a quick and easy way to hang your Metal Prints. Solid metal wall mount hanging hardware with a Satin Silver finish are available as a mounting option in the Metal Prints catalog in ROES.
Square/Rectangle: Hardware is attached through four holes, each 1/2″ of an inch in diameter, one hole in each of the four corners of the print.
The hole location will be 1/2″ x 1/2″ on center from each corner. Holes will be moved for special requests or logos. Please contact Customer Service for questions or special requests.
Circle: Hardware is attached through two holes, each 1/2″ of an inch in diameter, one in the center top and one at the center bottom. The hole location will be 1/2″ on center for the top and bottom on al sizes of circle Metal Prints.
All Metal prints are also available with No Holes and No Mounting Hardware.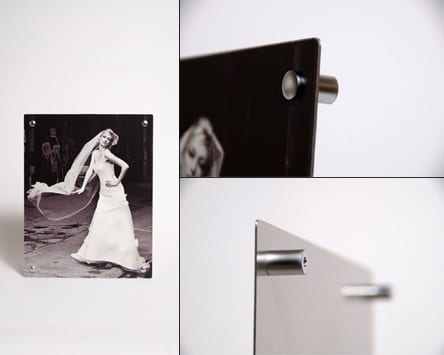 Make a statement with our Hanging Cleat which allows you to easily mount your beautiful Metal Prints to the wall. This durable Hanging Cleat will keep your Metal Prints level and mounted with less chance of shifting over time. By placing the ½ inch deep Wood Standoff in the back center of the Metal Print, the print will have an illusion of floating off the wall. Install quickly and easily with our step by step instructions you receive with each order.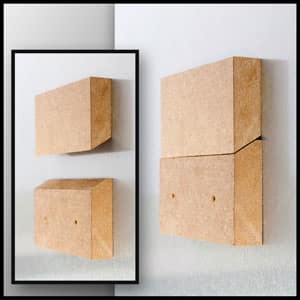 Our Floating Frames are a high end/low cost framing option for your clients who like the look of a metal print, but want the added finished style of a custom, solid wood frame.
Our unique solid wood frames go a step beyond the plain thin floating frame normally used for framing by offering wider side panels that mimic traditional custom framing. With a half inch space between the metal print and the frame, the metal print is attached from behind to give the appearance of floating inside the frame.
All hand-made collections are offered in a variety of colors and are available for metal prints size 8"x10" to 30"x40".
Find framed metal prints in the metal print catalog in ROES.
Floating Frames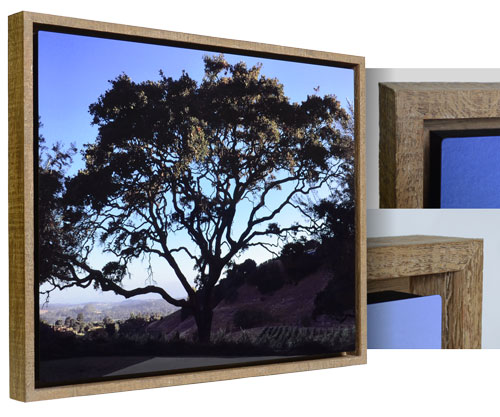 Important Notes About Metal Prints:
Please note that due to the nature of the Simply Metal™ product, slight inconsistencies may exist from one print to the next. These may appear as noticeable small bumps or bubbles, which are caused from the white basecoat that is necessary to give the image a rich, true color. Each print is quality inspected to minimize these imperfections. This is an acceptable and expected part of the process and final product.
Simply Color Lab offers the highest quality Metal Prints available in the industry. Metal Prints are produced using a different process from our Fine Art Prints. Consequently, prints will not have the same sharpness as our fine art paper prints. In addition, black and white images will contain a slight color cast due to the nature of the dye-sublimation process. This is a normal and expected result with metal.
As with all of our prints, we work hard to ensure that we have the highest print quality available. Due to the nature of this process, we apologize, but we cannot offer reprints on black and white metal prints for a slight color cast or Color Metal Prints that are not as sharp as a Fine Art Paper Print.
Important sizing information
Simply Metal Prints require a small amount of image loss due to production procedures. Expect final images to crop in approximately 1/8 inch on both the height and width. Please allow any important subject matter to have at least a quarter inch of room from the edge as a safe zone. The sizing templates in ROES will show you this 'bleed' area when you drag and drop your images for ordering.