Why are there different kinds of Canvas Gallery Wraps and Pricing?   Seems like we get this question at least once a week.  So, we thought we'd end the confusion.  Yes, there are different kinds of Gallery Wraps.  The Traditional and the New Kind, what we call Canvas Wrap Blocks.  Both are pictured here…they look almost identical from the front.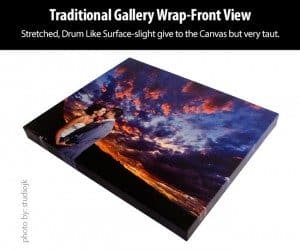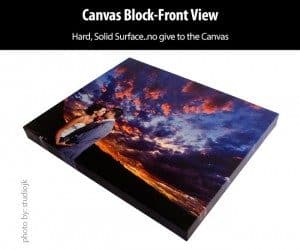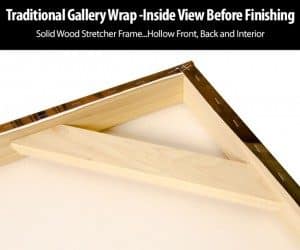 CONSTRUCTION: TRADITIONAL GALLERY WRAPS
First, a Traditional Gallery Wrap Canvas has a solid (usually hardwood) frame with an open front and back (Called a stretcher frame).  The Canvas is printed and then stretched around the front of the stretcher frame and stapled to the back.  This gives the canvas gallery wrap a taut, drum like feel on the front of the canvas.  If done correctly, this canvas will not loosen over time and will remain very tight for several decades.
BACK FINISHING OPTIONS: TRADITIONAL GALLERY WRAPS
CANVAS WRAP BLOCKS are made of several different kinds of materials, from a super sturdy Masonite (what we use) to pressed paper or cardboard type of material. This canvas has solid sides like the stretcher frame in the traditional gallery wrap, however, it also has a solid front surface.  The interior is hollow and the back is open but is typically finished with a hard black backer board or other type of material.  For the Canvas Block, the Canvas is not hand-stretched around a frame, it is glued to the hollow box frame and then stapled to the back.  The corners are tucked into the frame when it is assembled so you do not see the folded corners on the outside of the frame. The front surface does not have that traditional drum like feel, instead it is a solid, firm front.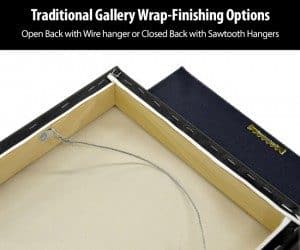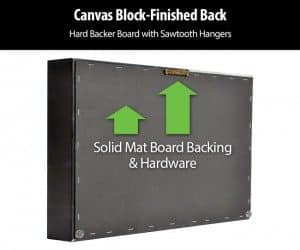 BACK FINISHING OPTIONS-CANVAS WRAP BLOCKS
As mentioned above, we finish ours with a hard black backer board and then add sawtooth hangers.  (Some companies leave it open)  This type of canvas will not loosen over time as it is not stretched on a hollow open frame.  So it can be poked and prodded.  I can't guarantee what types of glue or interior materials other companies use so for their products so I don't know if the glue will loosen over time with their products or if the material used for the hollow box is sturdy enough to not warp with humidity.
SIZES AND OPTIONS: TRADITIONAL GALLERY WRAPS
Due to our construction process of custom making each and every stretcher frame in house, we can do 1,000's of custom sizes…basically as big or as small as you need and as big as we can get shipped.  Call us if you don't see the size on the website and we'll see what we can do.  Traditional Gallery Wraps can me made in three different depths….75", 1.5", and 2.5" We can also do any type of border finish to the canvas…your color of choice, a border with type on it, a natural wrap of the image or a digital stretch…as pictured above.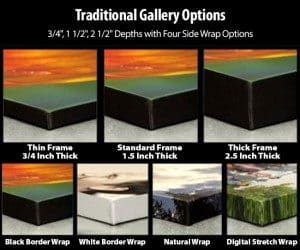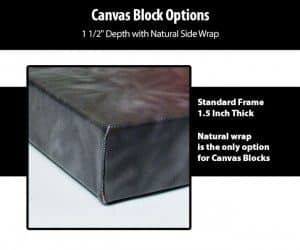 SIZES AND OPTIONS: CANVAS WRAP BLOCKS
Because the process to make the Canvas Blocks requires some specific equipment, they only come in limited sizes…and the masonite does add some weight to the product so very large Canvas Blocks would be very heavy and need extra support when hanging.  Ours range from 6×6"-30×40".   These are available in 1.5" depth with a natural wrap border option.
First, the good news is that we have both! And if you considering offering both types, the benefit to purchasing them both from the same company is that there will be no variances in color and quality within your product line up.  We use the same canvas and printing process for both types.   Second, for some reason several companies that only produce the new kind also call their Canvas Wrap-Like product Traditional Gallery Wraps..so I understand the confusion.  Well, here are the differences, the benefits and the limitations of each.  I'll let you decide which is best for your business (In many cases photographers have decided that they want to offer both). Special Note…this info is based on our products and production process.  If you use another provider for either of these products you'll need to confirm with them what materials and production processes they use.
A NOTE ABOUT PRICING
Even though we take the exact same amount of care with both types of canvases, and we use the same printing process for each…Canvas Blocks are less expensive than Traditional Gallery Wraps due to the production process and material costs involved.  The Traditional Gallery Wrap stretcher frames are made from solid hardwood and each one is custom made and hand stretched.  The Canvas Blocks , of course, go through the same rigorous quality controls and are printed with the same high-grade canvas and inks…but the material cost for the frame and man/woman hours for production are greatly reduced and so the price reflects this.
WHICH IS BETTER-Traditional Gallery Wraps or Canvas Wrap Blocks?
The traditional way of making canvases goes back centuries and is what you see in museums and is typically the hand stretched, hollow center kind, thus why we call them Traditional Gallery Wraps.   Canvas Wrap Blocks are not traditional, but nonetheless, a sturdy and affordable option.  While the Traditional Gallery wrap has more options and sizes available to you and is what most customers are used to seeing, it is your preference in the end.  What should matter to you is the quality of the final printed piece, the quality of materials used to make your Gallery Wrap and how long will it last on your clients walls.   We've been doing this for years and have researched the best canvas and the best printing options…All of our canvas is of the highest grade and hand sprayed with a UV coating.  It is guaranteed to not fade over time and neither option we make will loosen, come unglued or warp over time.  We guarantee it.  But well, that part you already know about us!!
So, that's it.  Just thought we'd take the time to explain the differences
Special Note: I'm not totally familiar with every companies production process so if you want more info on their specific products you can ask them what types of materials they use and what kind of guarantee they offer.