The winner of the first round of our photography contest was Christina Ezell. Her adorable photo captured our hearts and made our seasons a bit more bright. Here's what she has to say about her winning photo: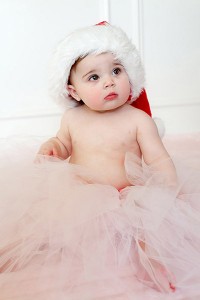 "I shot little Kendall in my home studio in Algonquin, IL. For this session, I used my Canon EOS 7D and my Canon EF 28 mm. f1.8 lens, at f/2.5, 1/200 second, ISO 160. I shot 8 month old Kendall in natural light with one supplemental light source bouncing of the ceiling. I made some minor adjustments in Lightroom 4. This was at the end of the session and even though I had several of Kendall looking straight at me, I loved her sincere and curious face in this shot. I design and make the tutus for 'Couture Tutu' sessions myself."
You can see more from Christina Ezell Photography here.

Enter the contest for a chance to win yourself here!